Ideal for:

Party walls, corridors, external walls

Replacement for:

brick/140mm block wall

Width:

333mm

Lengths:

1200mm to 1650mm in 150mm increments | 2850mm | 3000mm | 4000mm | Custom*
*Custom made profiles in lengths between 1800mm – 7950mm
Ideal for:

External walls, party walls, corridors, lift shafts, stairwells, basement walls, retaining walls

Replacement for:

140 block, 190 block and 150 precast/tilt up

Width:

333mm

Lengths:

1200mm to 1650mm in 150mm increments | 2850mm | 3000mm | Custom*
*Custom made profiles in lengths between 1800mm – 7950mm
Ideal for:

External walls, lift shafts, stairwells, shear walls, columns, basement walls, deep beams, retaining walls, planter boxes, 200 precast/tilt-up, swimming pools and tanks

Replacement for:

190 block, 200 in-situ concrete walls and 200 precast/tilt up

Width:

333mm

Lengths:

1200mm to 1650mm in 150mm increments | 2850mm | 3000mmm | 3150mm | 3300mm | 3450mm | 3600mm | Custom*
*Custom made profiles in lengths between 1800mm – 7950mm
Ideal for:

Deep beams, lift shafts, swimming pools, tanks, stairwells, columns, pits, detention tanks and basements (including submerged conditions)

Replacement for:

290mm block and 300 in-situ concrete walls

Width:

275mm

Lengths:

1200mm to 1650mm in 150mm increments | 2850mm | 3000mm | 3600mmm | Custom*
*Custom made profiles in lengths between 1800mm – 6525mm.
Angle Profile
Available in 200P and 275P
Create curved walls of any height and length without any joints. The Angle Profile allows corners to be built with 15-degree increments. The use of the product also allows circular formed or waved walls.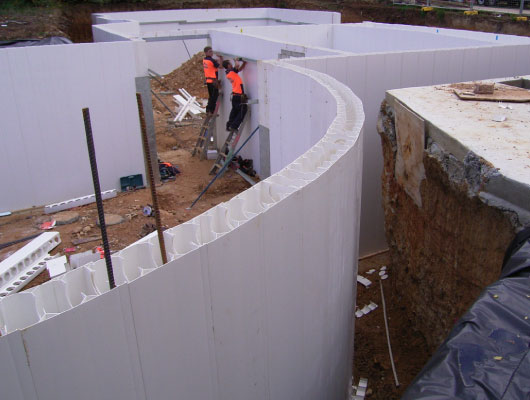 Window Sill/Wall Splicer
Available in all profiles
The Window Sill/Wall Splicer can be used either as a sill and head to create windows, or a wall splicer to extend the profiles installed in vertical or horizontal directions.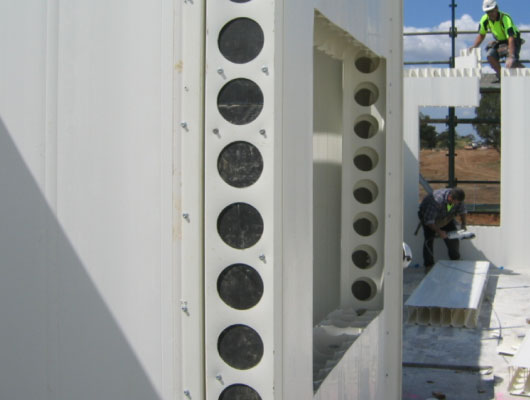 Corner Profile
Available in all profiles
Use a Corner Profile to achieve a 90-degree wall corner.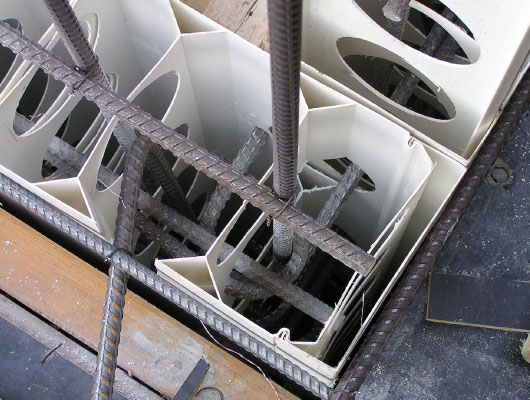 End Cap
Available in all profiles
The End Cap can be used to finish off the end of the wall installed vertically and give the wall an overall finished look.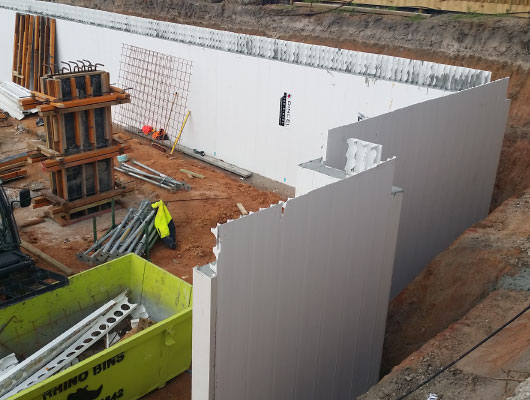 Certified & Compliant
Dincel Structural Walling is CodeMark certified. All products and accessories are certified as being manufactured with best environmental practices PVC. VOC, acoustic, waterproofing, fire and earthquake tests and assessments have been carried out by the CSIRO, Warringtonfire, UNSW, UTS and third-party independent fire and acoustical engineers. Our products have been deemed compliant with current Australian NCC regulations for use in both internal and external applications.

Faster & Easier
Dincel Structural Walls consist of an internationally patented snap lock joint which connects the Dincel panels for fast and easy installation. Dincel panels allow for greater safety and manoeuvrability on-site. Dincel is lightweight, making it easy for one man to carry the product across a construction site if needed. Dincel panels can be installed relatively quickly, with two men being able to comfortably install 25m² of panels per hour.

Cheaper & Stronger
Dincel permanent formwork achieves greater concrete strength by minimising moisture evaporation throughout the curing process. The waterproof polymer skin does not absorb water from wet concrete improving structural integrity, minimising air voids and the likelihood of concrete cancer. The use of the Dincel system can allow for less cement and steel to be used compared to typical floor slabs and transfer levels. Material, waste and cleaning costs are significantly reduced, which can all be translated to real financial savings.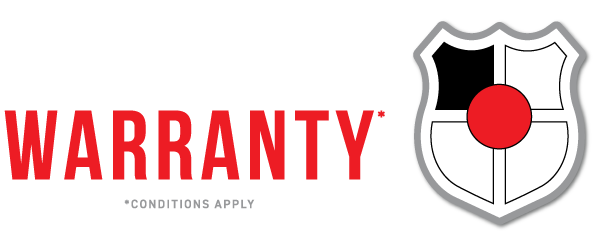 In an Australian first, Dincel is offering a void free warranty when you choose to pour your Dincel Structural Walling with Self-Compacting Concrete and the installation is to Dincel's specifications.